SmithRock.com. While its name has been synonymous for CLOSE TO 20 years with Smith Rock State Park, we are an independent ONLINE guide for adventurers that come here.

Originally established on March 3, 2000 to serve the climbing community--we've expanded. A lot. What hasn't changed about us is our dedication to providing the best online resource for those who come here for hiking, mountain biking, trail running, slacklining and highlining, and horseback riding. We live and breathe Smith Rock. And yes, we never tire of seeing the sun lighting up Picnic Lunch Wall.
The executive team is not only married to producing Smith Rock content, but also each other. We think it all works quite nicely.
More about us since you're curious: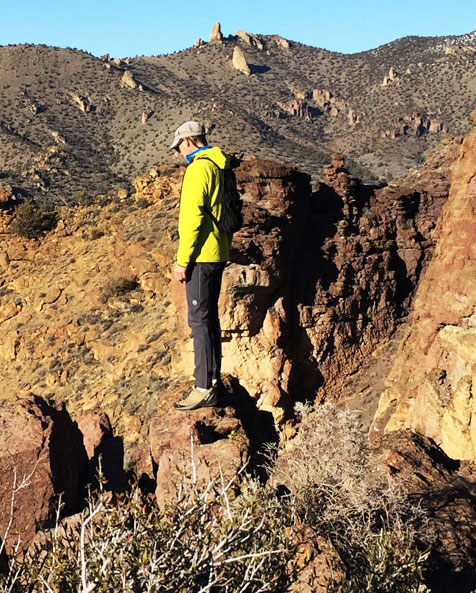 Executive Producer | Partner
Mike's first climbing trip to Smith Rock was in the fall of 1971.

In March of 1983 he bought property across the street from Smith Rock State Park and founded Timberline Mountain Guides/Smith Rock Climbing School.

He sold the guide service in 1992 to pursue his interest in video production. While still the owner of Smith Rock Climbing School he started Extreme Video Productions in 1988. He went on to produce the classic "Video Climbing Guides - Smith Rock" and the "Vertical News" series during 1989-1990.

In partnership with Waverock, a Portland-based web marketing firm, Mike began work on SmithRock.com in September of 1999. During 2001 he became the sole owner of the website. In 2015 his wife, Marcia joined the management team.
Chief Content Officer | Partner

Marcia's first taste of story production began in the streets.

At 11 years-old she directed other kids in a neighborhood play of a Dr. Seuss book. After years of journalism and film school, she ended up with a business degree that got her into Hollywood. Behind the scenes of television commercial production, that is.

That's where she learned the art of telling a story in 30 seconds. She went on to manage the production of other stories, from long format video to online media.

As the business of interactive communication grew, so did her passion for connecting people with valued content. Her love of Smith Rock and the need for a site that served the community came together in 2015.

Mike decided to completely redo his climbing site and needed help. She answered the call happily.