Alex: Bold as Love.
A friend remembers well loved climber Alex reed.

April 15, 2018

The climbing community was deeply touched by the loss of Alex Reed in a climbing accident this week. Stories surfaced in snippets on social media and then some expressed their experience of Alex in deeper prose.
We were particularly moved by words shared by Alex' friend Chris Hatzai at the memorial service yesterday, reprinted here with Chris' permission.
Alex's enthusiasm aka "stoke", for life, and climbing, was contagious. I've said to myself many times that the world was this kid's oyster. With absolute grace and style he treated it as such. Like the wide eyed, open eared, young inquisitive climbing badass that he was, Alex made positive impacts for so many different people in many sectors of his young life. For being known by all as the ultimate stoker, there wasn't a time when I didn't receive a random weekly text of the next life goal he just made, what new song to check out, or what new crag he wanted to go visit. And he did this with all his friends. Not only interested in his own life goals and achievements, Alex was always interested in what was going on in your life as well.
Often mistaken for being much older, his maturity and open mindedness would on average, tack on about 5 years to his age. So many times have I heard Alex being mistaken for being 24 or 25. And at the same time I think many of us have felt him to be like a little brother. So curious and always asking questions, Alex was like a sponge, sopping up as much information as he could. We often talked about philosophy, climbing, and life. And when it wasn't some deep meaning-of-life discussion, it was often his dreams of where he was going to next. For this place was only a stepping stone for Alex. His dreams reached much further than Bend, Oregon. He often mentioned crags around the world that were potential places to live. "There must be virgin untapped rock though!" For route development had become a huge part of his climbing life.

A gift several of us were able to impart onto Alex, I feel completely honored to have watched him grow as a developer. In his short time climbing at one of his most loved places, Alex has developed 10 climbing routes at Smith Rock State Park. The beautiful lines he discovered and developed are lasting impressions of Alex himself. The amount of thought and detail that went into each route will be felt by every climber that comes after to sample his work
The summer of 2017 is when I got the chance to meet Alex for the first time. He had just landed here in Central Oregon after a brief stint in Bishop, California. Coming to Smith Rock still having the rope-less bug, some of Alex Reed's first climbs here were done free solo. He free solo'ed Into Thin Air within the first weeks of him being here.
Upon hearing this news the first time meeting Alex, I immediately started hassling him about his risky-bold effort. At that point, Alan Collins, another huge impactful person in Alex's life, started to chime in too. Together, we basically gave the kid shit for about 20 minutes until he was convinced it wasn't worth solo'ing on crumbly rock. It just wasn't worth the risk.
The rest of that year turned into one of the greatest climbing summers of our lives and one I will always remember. Alex adventured with Alan and myself on many different exploratory and developing efforts in the park.
I feel privileged to have seen this young kid straight out of high school starting to grow into the man he was becoming. His focus and admiration for climbing was paramount entering his young adult years, but was also starting to form solid life goals for his big future ahead.
Like I said, Alex had his sights set on much bigger places than Oregon. This place was only a stepping stone on his agenda to greatness.
Considering Alex's interests in the human body and health, it was no surprise when he told me he wanted to go to college to study Kinesiology.
Realizing being a climbing bum for the rest of your life isn't exactly the most sustainable life choice to make, Alex found a career that appealed to him greatly. And one I know for a fact he would have been very successful at. For as many people will remember his ultimate stoke for life, what sticks most with me about Alex Reed was how hard the guy was willing to work for what he wanted in life.
Selfless to a T, Alex would always be the guy to help bear the load on any excursion or hike. It seemed at times his pack was bottomless, stuffing as much gear as he possibly could into his pack, but always being the first one to the top of the hill, like always! I can still hear him say before we set out on our adventure, "Hey do you want me to carry anything for you? ... Oh I don't mind, it's great training weight!" For that was only a tidbit of what Alex exemplified on a daily basis. His selfless, caring, goofy nature is what made him feel so close to all of us. It truly breaks my heart to now know you are not with us anymore. And damn, what an impact you made in such a short time. Not just on me, but to many. My greatest memories of you Alex will be kept in my heart forever.
Some of the most memorable things about our friendship were formed while developing and climbing. The comradery we shared, literally caring for each other's life out there on the rock is what solidified our bond. Your strength, courage, and ultimate try-hard are what will be remembered most. Along with your seemingly limitless effort, there was also your limitless propensity of being a kind, gentle, goofy, big-hearted soul.

You loved life and that is a lesson you leave onto all of us, thank you bro. And I know wherever you are, you'd be more happy if we all celebrated your life, rather than mourn your death. While the latter is absolutely impossible to avoid, you were just too cool Alex, we can all still celebrate your life.
One of the funniest memories I have of him is when Alex and Alan decided to race down from the Babylon Wall at Smith Rock State Park. Now to understand, getting down from this crag is a challenge for even the most avid hiker. Washed out scree paths and jagged rocks litter the huge hill side that leads to the Babylon Wall. This is when Alex had just moved here and was still very much into minimalist footwear. He would go on and on about all the data and information he collected about how the modern day shoe was bad for the human foot. Even citing information he learned about indigenous tribespeople who run barefoot and are complete studs doing so, Alex was convinced wearing broken down sandals out to the crag was a good idea. So on this hot summer day, after climbing all day and us all feeling the full body fatigue, Alex proposed to Alan of racing down the hill. I naturally sat back and watched as these two crazy climbers, one tall, lean and gangly, the other short and muscular, charging down the hill in a cloud of dust. It took me a while to follow in their footprints, but after reaching the both of them at the bottom of the Burma Road, Alex had sustained a gnarly skin flapper on the complete bottom of his big toe. Hobbling out, Alex didn't complain a lick. Later that week, upon suggestion for him to invest in some approach shoes, Alex showed up at crag with tape on his toe and real shoes on his feet. The first thing he said to me when we got to the wall, "Dude, I would have totally smoked Alan if I had these things on my feet!" Hah! That's the typical Alex I grew to know and love.
Another stand out story is one of the greatest adventures of both of our lives. In July of 2017, Alex Reed got one of the last true first ascents and first free ascents of Puddy's Tower at Smith Rock State Park. At this point, Alex and I had just recently met and have never developed or aided our way up anything together. And in hindsight, I'm pretty sure this was Alex's first time doing anything of this caliber of climbing/aiding. Our objective was to summit the 350' free standing monolith that is Puddy's Tower.
Listed in the Watt's guide as being one of the last unclimbed towers in the park, Alex's eyes light up when he heard he was going to be the one on the sharp end leading all the pitches. While most first time developers back down at this monumental challenge, I know I definitely did, Alex was fired up and ready to go. The day started out slow and we carefully plotted our course up the untouched rock. Coming in from the backside of the huge formation, a ramp system of risky, but easy climbing led us up to a notch about 300' in the air. We built an anchor in that notch and discussed how the last 50' of slab climbing should be approached. I had suggested to Alex to climb almost mid way up the slab, rest in a groove formation mid climb, drill his bolt and set his protection, and continue to the summit.
Alex set out climbing with a full aid bolting rack; heavy drill, bolts, and all the gear you'd need for multi-pitch climbing. Upon arriving at the discussed groove formation, Alex got to the groove, tried to find a good stance to drill a bolt in on lead, didn't like the stances and then yells down, "Hey dude I'm just gonna go for it!" As I'm sitting there yelling 'Ok you got it!', but thinking in my mind if something goes wrong it would be horrible, I sat there like any good belayer would do and backed up my partner the best I could. Now remember, this was a no turning back situation for Alex. The summit was his only option.

Giving small words of encouragement as Alex methodically weaved his way up the uncleaned slab, it gave me instant fright then ultimate relief after he dipped around a corner and then popped his head back up over the summit with one of the biggest smiles I have ever seen and one I will never forget. Elated with stoke and careful celebration on the top of that crumbly summit, Alex and I set our master point and lowered down the wall. I'll never forgot as we simul-rappelled down and seeing the quality of rock up close for the first time. We were blown away and elated with joy for we both had huge visions for the potential this new wall held.
It wasn't soon after that Alex started to develop his futuristic lines. In the short time he was able to develop on Puddy's Tower due to seasonal eagle closures, Alex contributed Capacity Tenacity 12c and Dimension of Love 11d to the history and lineage that is Smith Rock climbing. Alex Reed's lasting impressions will be felt forever by all climbers privileged enough to sample work. For his spirit blazes on through the walls he's developed in his short time with us. The love and appreciation he had for all of his routes is very evident. Just another gift Alex Reed imparts onto the world that he loved.
Thank you so much for allowing me the privilege to know you and to say you were my friend Alex. You will be forever missed.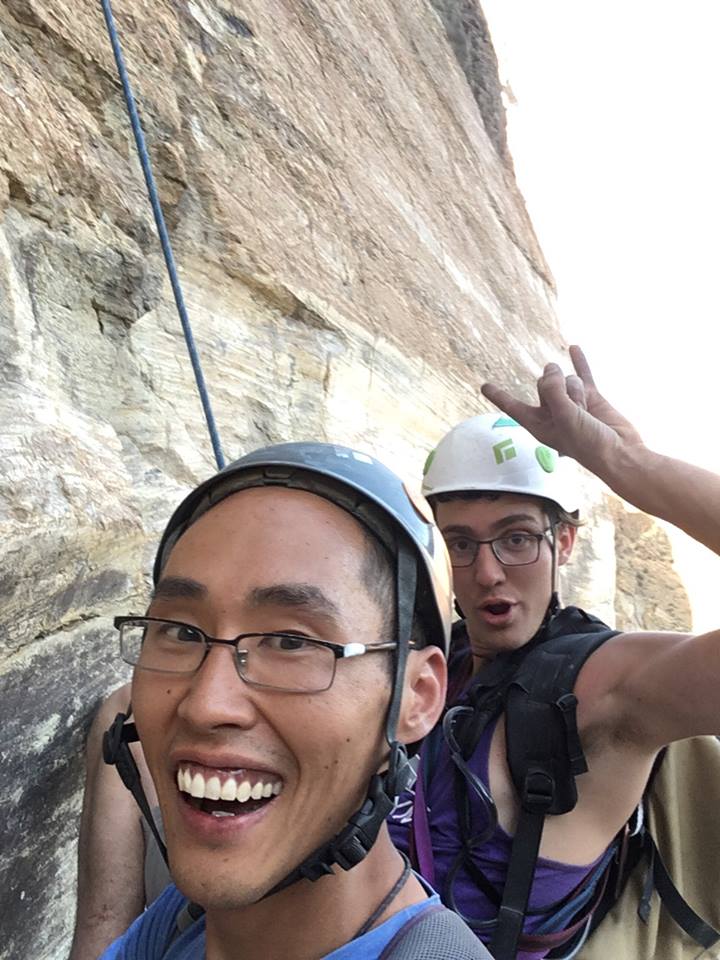 I'm 32, from just outside Philadelphia, PA. I have been living in Central Oregon for almost 6 years now and work at Metolius Climbing Co. A baker by trade, the intense work lifestyle of it did not coincide with my climbing lifestyle.

Earlier construction and manufacturing jobs helped me to grow as a route developer out here at Smith alongside the help and guidance of friends, mainly Alan Collins and his father, John Collins. After climbing a few years at Smith Rock, Alan and I found the Hank Wall at Smith, an untapped wall at the time, and that totally changed my climbing forever.

A few years in now and I was able to have the privilege to help guide who would have been the future of Smith and climbing in general, Alex Reed. I've been climbing for almost 8 years now and hope for at least 8 more! Climbing has changed my life for the better as well as Smith Rock. Two things that will hopefully be with me forever. And Alex, so 3 things actually.